2.- The Rose Society.
Érase una vez, una chica que tenía un padre, un príncipe, una sociedad de amigos. Luego la traicionaron, y ella los destruyó a todos.
Adelina Amouteru ha sufrido a manos de tanto su familia como sus amigos, conduciéndola por el amargo camino de la venganza. Ahora conocida y temida como la Loba Blanca, ella y su hermana huyen de Kenettra para encontrar otros Jóvenes Élites con la esperanza de construir su propio ejercito de de aliados. Su objetivo: derribar el Eje de la Inquisición, los soldados de capa blanca que asesinaron a su amor, el Príncipe Heredero Enzo Valenciano.
Pero Adelina no es ninguna heroína. Sus poderes, alimentados solo por el temor y el odio, han empezado a crecer más allá de su control. No confía en sus recién descubiertos amigos Élites. Teren Santoro, líder de la Inquisición, la quiere muerta. Y sus antiguos amigos, Raffaele y la Sociedad de la Daga, quieren detener su sed de venganza. Adelina lucha por aferrarse a lo bueno que hay en ella. Pero ¿cómo puede alguien ser bueno, cuando su misma existencia depende de la oscuridad?
3.- The Midnight Star.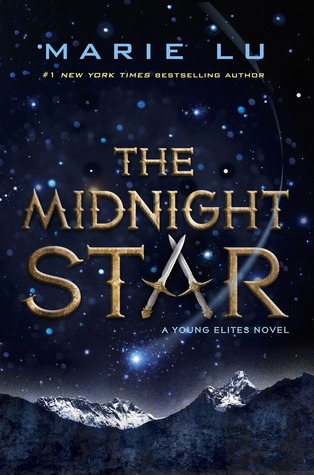 El emocionante final de la serie bestseller del New York Times, Young Elites de Marie Lu.
Había una vez una vez una época en la que la oscuridad envolvía el mundo, y la oscuridad tenía una reina.
Adelina Amouteru está harta de sufrir. Les ha dado la espalda a aquellos que la han traicionado y ha logrado la venganza definitiva: la victoria. Su reinado como la Loba Blanca ha sido un triunfo, pero con cada conquista su crueldad no hace más que crecer. La oscuridad en su interior ha empezado a descontrolarse, amenazando con destruir todo lo que ha logrado.
Adelina se ve obligada a volver a las viejas heridas cuando aparece un nuevo peligro, poniendo en riesgo no solo a Adelina, sino a cada Élite y el mismísimo mundo en el que viven. Con el fin de salvarse y preservar su imperio, Adelina y sus Rosas deben unirse a los Dagas en una peligrosa misión; aunque puede que esta inestable alianza llegue a ser el verdadero peligro.
La autora bestseller Marie Lu concluye la historia de Adelina con esta inquietante e hipnotizante última entrega de la serie Young Elites.